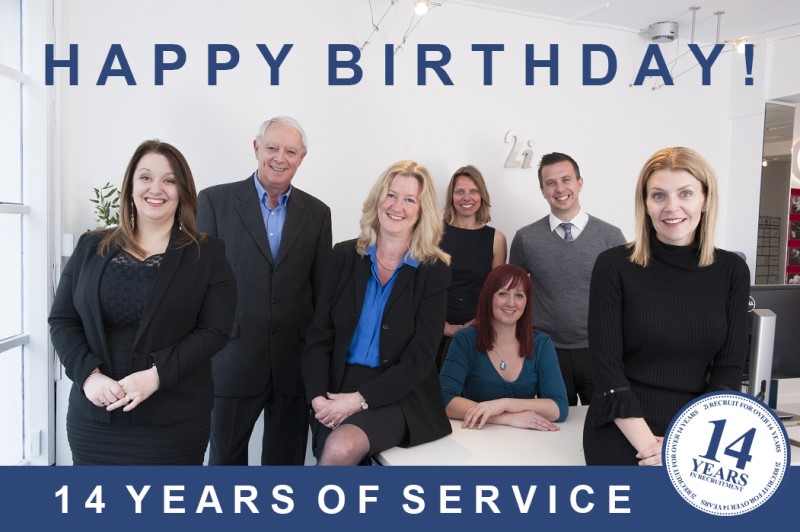 2018 has been an exciting year at 2i Recruit and we are delighted that it is drawing to a close with a celebration. On December the 7th we will be turning 14, after more than a decade of working with both employers and candidates helping to bring career dreams and business visions to life. It's a wonderful time of year to toast the achievements of the past – and the potential for the future – and we're very proud to have established such a long-standing and well-respected local agency.
2i – Our history
2i Recruit was launched in 2004 by Jenny Jamieson, our company owner and Director. Jenny's experience was in boutique recruitment and she was keen to establish an agency that broke the mould. Instead of following a 'just another high street recruitment agency' model, Jenny looked to do something different. 14 years on, the results of all that hard work are obvious – strong relationships with local businesses and companies and a pool of exceptional talent, as well as some of the most exciting opportunities for candidates.
What does 2i Recruit mean for those who work with us?
Most people think every recruitment agency is the same, but for us this is not the case. Our business is founded on principles of intelligence and integrity, approaching the recruitment sector from a perspective of transparency and passion. The "i" in our name isn't just about intelligence and integrity but insight too – we have the vision to help achieve our clients' goals, both on the employer and candidate side. Many of our clients have been with us for years – some for over a decade – and we value these mutually beneficial relationships as a sign that our approach is highly effective.
What do we offer our clients?
We're looking to build long-term relationships so repeat business is our goal. We achieve this by listening to what our clients want and delivering on every aspect.
Our service is bespoke. The service that we offer our clients is uniquely tailored to individual requirements and we take the time to listen to vision and need.
Our team is very experienced. We choose our people carefully, looking for a combination of expertise, experience and passion for the job. Our consultants have a combined 30 years of experience and market place knowledge – they are truly focused on what they do and passionate about doing it.
We have a team focused approach. At 2i Recruit we work together to ensure that our clients get the best possible service.
There is no hard sell with us. Honestly and professionalism – and great results – are all we need to convince clients to partner with us.
An exciting time at 2i Recruit
This year we have begun to expand, seeing clients and candidates in London, as well as locally. And we've continued to personalise our service, from ensuring we always meet candidates before sending out CVs, to refining the way we approach client need. So, the future is looking bright and there is a lot to celebrate. We'll be combining our Christmas party at The Ivy in Guildford with our birthday celebrations so the magical day will be a truly exciting event.
If you'd like to find out more about what we do – and how we could support you in 2019 – get in touch.