Currently graduate vacancies are 20% higher than pre-pandemic levels as companies look to hire young workers to off-set skills shortages. This figure is expected to rise further as candidate shortages continue. Are you looking to hire? Discover how to attract graduates to offset labour shortages and skills gaps for your organisation.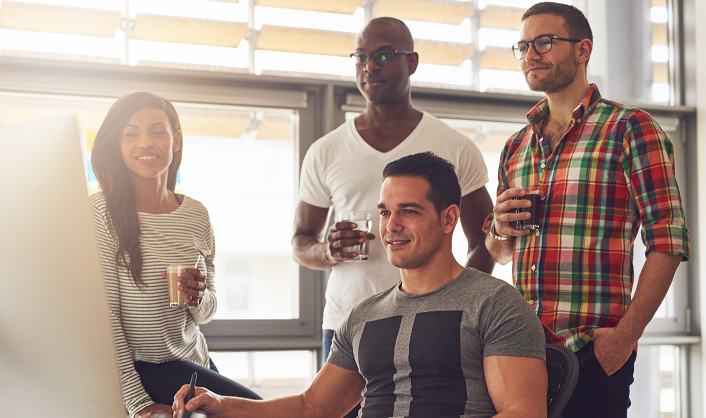 Are businesses providing the right workplace experiences for young workers?
New research from Applaud has found that 72% of UK businesses are not providing sufficient workplace experiences for young workers. This is due to insufficient workplace technology and poor employee experience strategies.
86% of Gen-Z and Millennials report that working from home is one of the biggest incentives when looking for a new job. The research also found that some businesses have adapted well post-pandemic by introducing new working patterns to create transformative employee experiences. However, 28% of UK businesses have struggled to accommodate for the needs of today's graduates and young workers.
How to create transformative employee experiences?
In addition to working from home, graduates and other young workers expect to be able to use mobile workplace systems to work anywhere, at any time, on any device. Workplace systems should be designed to replicate the ease of technology that's used at home.
The Applaud research found that only around half of UK businesses are planning on implementing consumer-grade workplace technology this year. However, if businesses want to compete for the best talent to join them, they need to implement this technology now before they miss out.
Duncan Casemore from Applaud says "Businesses shouldn't see this shift in expectations as a challenge. It's an exciting opportunity to build new experiences that are fit for workers now and in the future."
To create the best employee experiences, organisations must be agile and able to listen to their employees and adapt. Employee experience is bottom up, in contrast to employee engagement which is top down.
Having a sense of purpose at work is hugely important for today's graduates. Being transparent about what is expected of new graduates you hire is key. Transparency builds loyalty and trust and in turn creates a transformative employee experience. Today's graduates want to be involved in the organisation and care about their jobs. Young workers view company reputation and performance as highly relevant when deciding whether to take on a new job.
To implement transparency requires clear communication. Tools to communicate need to be easily accessible. This will keep your new graduate hires connected to the business and create a sense of belonging which is what they want from their role.
Discover more about what young workers want from a job within our blog earlier this month 'The Great Resignation is increasing, not slowing down.'
Next steps?
Discover more ways to attract the best graduates by reading our blog 'Attract top graduates to your company by considering these approaches.'
2i Recruit help the most talented graduates find their dream roles – if you'd like some support in attracting the best talent we can help. Get in touch with 2i Recruit today to find out more.
Now you have discovered how to attract graduates to offset labour shortages and skills gaps, what strategies will you implement in your organisation to attract the best new hires?