The changing recruitment landscape and new ways of working may leave you unsure of the best way to find and interview candidates for your next managerial hire.
Due to working from home during lockdowns, many managerial candidates have different working expectations to pre-Covid times. This means a different strategy is required when hiring the very best talent.
When it comes to hiring a candidate for a managerial role, there are a number of advantages to partnering with a specialist recruitment agency in Surrey such as 2i Recruit.
Why use 2i Recruit for your managerial hire?
Managers have different expectations post-Covid – Workers in senior positions now expect to have the freedom to work flexibly. No matter what your working policies are moving forward, we can manage candidates' expectations and desires.
The stakes are higher – Good leaders inspire a whole team of employees; however bad managers can be very damaging to your business. Research shows that only 1 in 10 people have the necessary talent to manage others. Minimise the risks to your business by partnering with our experienced recruitment agency.
Selling your company's culture – Leaders are much more interested in finding a company to work for that has a culture they feel is right for them. We're experienced in finding out all about our client's business so we can fully educate the best managerial candidates in what to expect at your company.
Our pool of talented managers – We have an extensive database of managerial candidates in and around Surrey that are looking for the next step in their career. This will save you a great deal of time in sourcing the perfect candidates for the managerial role you wish to fill, freeing up your internal staff and resources.
Passive candidates – These are managerial candidates that are not actively looking for a role but are open to being approached with jobs that meet certain criteria. At 2i Recruit we have a network of managers in this position which are hard for companies to access any other way without the right contacts. This pool of passive candidates is often where you'll find the exceptional managers that are going to have the greatest impact on your business.
Pre-screened – All our candidates have been vetted to save you valuable time in your recruitment process. We take the time to talk to all our candidates which gives us a better understanding of whether they will fit well within your company. This is a much more successful method than just looking at a pile of CVs, especially when hiring a manager. Personality and interpersonal skills are very important when shortlisting candidates for managerial roles. There are a lot of things a CV can't tell you, some of the best managers do not sell themselves well with their CV. We know what to look for.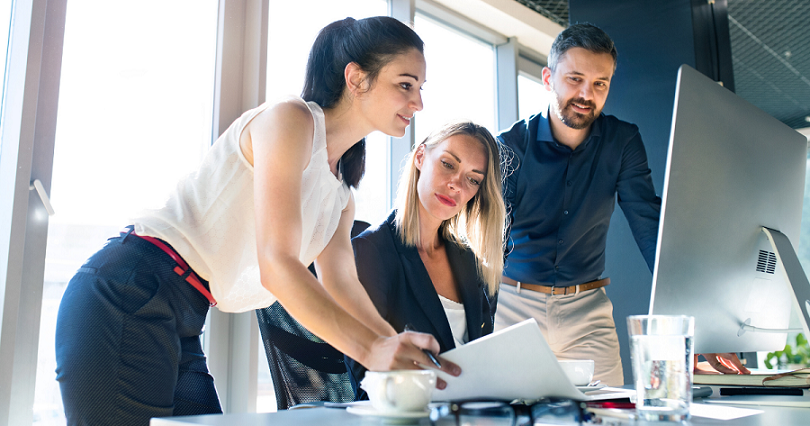 Video interviews – Being interviewed remotely is a very different experience to being face to face with interviewers. We make sure all the candidates we put forward for roles are trained in this new method, so you get the very best from them in the interview process.
Years of expertise – Our extensive experience in recruiting managers in Surrey and surrounding areas means we know what to look for in candidates. We can spot what makes someone a great manager and who is going to be an invaluable asset to your business.
Effective recruitment – Finding a manager can be a time consuming and resource heavy process. Throw into the mix the challenges of recruiting in a post- Covid world and sometimes your efforts can be fruitless or not give you the results you are looking for long term. There's no need to sort through hundreds of CVs when working with us as your recruitment partner. Background checks and initial interviews are taken care of by our specialist recruiters. We know what to look for in a manager to get you the very best results as soon as they start at your company.
Training with Seedl – All candidates placed by our recruitment agency have access to 3 months of training. From Sales to Service, from Microsoft to Communication skills – there is up to 35 hours a week of live, interactive, virtual training.
Expert advice – Not only do we make sure all our managerial candidates are prepped in the best way to be interviewed by video, but we also advise you on the best methods in conducting video interviews. There are also technical considerations such as making sure candidates know which video platform they will need to connect to, they can then test the software beforehand. Interviewing via video means candidates don't have face to face experience with your business culture. We fully educate candidates about your business values and culture, so they are the very best fit.
Responding quickly – The need to grow may come suddenly. The rapid recruitment of specialist candidates by companies returning to offices at the moment requires a rapid process to find and attract the very best management candidates. Our specialist recruitment agency is able to achieve this through our pool of active and passive managerial candidates and our specialist knowledge and experience in hiring.
If you're an organisation looking to partner with a recruitment agency that's experienced in managerial hires in and around Surrey, then don't hesitate to call our team of specialist recruitment consultants here at 2i Recruit on 01483 414 719, or email us at info@2irecruit.co.uk.