After some time working remotely during lockdown, office workers have experienced the benefits of flexible working and have come to expect a more fluid way of managing where they work. Should companies adopt hybrid working; a mix of remote working and working on site? Or should they aim to go back to pre-pandemic ways of working? Read on to discover the pros and cons of hybrid working.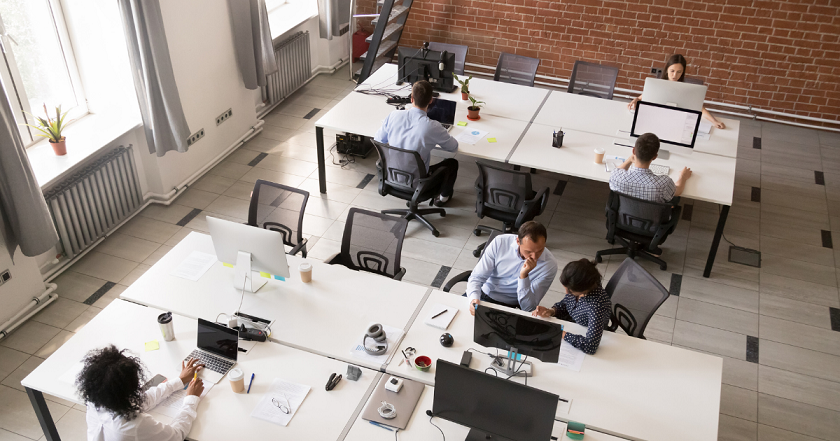 The Benefits of Hybrid Working
1. By listening to employees' requests for hybrid working, you will be increasing their job satisfaction and therefore their productivity.
2. Some of the best workers are expecting hybrid working from their employers. By offering it you can attract and retain the best talent in the market.
3. Offering hybrid working may allow you to attract a more diverse workforce.
4. With less employees on site, you may be able to reduce your office space and therefore your overheads.
5. With hybrid working, you could change some permanent desk space to hot desks. This could free up some space for more communal or quiet spaces, offering workspaces that employees want, encouraging them to come back to the workplace.
The Downsides of Hybrid Working
1. Hybrid working may be seen as unfair by some employees, if you can't support hybrid working for all.
2. With hybrid working there will be less spontaneous conversations and interactions, with work colleagues, compared to being in the office. So there is a potential for increasing isolation and mental health problems, however, this could be counteracted with regular team meetings and social activities.
3. IT systems will need to be kept up-to-date to allow for remote means of communication, such as video calling and collaboration applications such as Slack or Asana.
4. The workplace is at risk of feeling dull if some employees are working remotely. Break out areas or chill out zones could help to counteract this and spark conversations.
5. Employee schedules will need to be carefully managed to avoid resourcing issues on site.
Conclusion
If you're still unsure if hybrid working is the right thing for your team or organisation, you could try hybrid working for a short amount of time. A trial period would allow you to see how it works in practice and whether any adjustments would need to be carried out.
Alternative flexible working practices could also be considered, such as different working patterns. Whatever you decide, you should review your decision regularly and continue to consult with employees.
What do you think of the pros and cons of hybrid working?